Jamaeos Del Agua
Another awe-inspiring subterranean phenomenon on the north east coast of the island is Jameos del Agua, a strikingly beautiful volcanic grotto whose natural beauty has been combined masterfully with superb artistic design. The grotto is open at both ends with a source of natural light entering through two apertures, called jameos, by the original inhabitants of the island.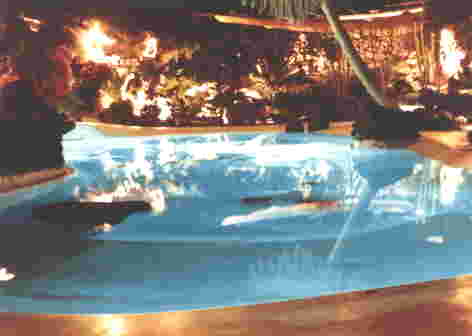 Appropriately chosen ambient music gently fills the underground chamber as the visitor descends steps to experience the peculiar magic in the grotto of dreams. Carefully positioned lighting illuminates the cavernous interior while subtle decor and furnishings fit comfortably into a semi--tropical landscaping. Theres a cathedral like quality to the place, which is endowed with a unique sense of poetry and mystery.
The shimmering effect of filtering light transforms the still water of an underground lagoon in the Jameos into a multi-coloured dream. The lagoon is home to a unique species of tiny white crab, the blind Munidopsis Poliforma.
The Jameos del Agua, as well as housing a restaurant, dance floor for folkloric shows, bars and a lovely swimming pool, also possesses a magnificent underground auditorium. It is here where the islands major shows and concerts are staged. The venue has proved successful for a range of cultural events, ranging from international ballet and theatrical performances to classical music and pop concerts. Various festivals of light and sound have been staged at the versatile auditorium of Jameos del Agua.