Haria
The most spectacular way to arrive to Haria is to take the road through Teguise and the agricultural area of Las Valles. This route offers the visitor a breathtaking elevated vista of the town nestling, as it does, in the "Valley of the Thousand Palms". Seeing Haria from such a vantage point, it seems like a typical north African oasis town. Instead of Saharan sanddunes however, here we have Lanzarote's boid volcanoes encircling the valley. Drive down the winding road into the town and you'll find yet another.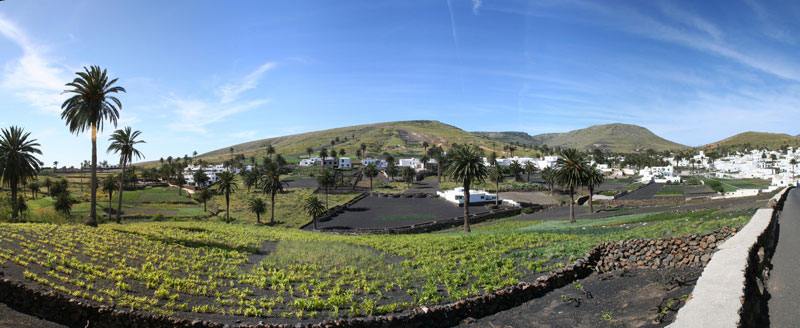 sleepy place, the silence broken only by the braying of donkeys and children. Old women in straw hats and ancient craggy senores wearing the gnarled black sombreros of Lanzarote peer out of windows at passersby. There's a feel of secrecy about the place, but that is soon broken by a friendly "buenos dias" or "buenas tardes," depending whether it's before or after noon. Haria with its surrounding villages has a population of around 2,600. But it is one of the most visited zones on the island.
Within its boundaries fall the gelogical wonders of Jameos del Agua and Cueva de los Verdes, and the spectacular belvedere of the Mirador del Rio, which over-looks the nearby island of La Graciosa.
Local crafts
Saturday mornings you will find a small market showing of the local art and crafts.

This northern muninicipality also includes the fishing villages of Arrieta, Punta Mujeres and Orzola, all farned for the quality of their seafood and possessing sorne of the best fish restaurants on the island. (Rafaels in Orzola £5 something of an institution on that score).

At one end of the town's main treelined square, is the modern parish church of Haria. houses the interesting sculpture "Asuncion de la Vigen" by tbe Canarian artist Lujan Perez, and an image of Christ by local artist Borges Linares.